An amazing opportunity for students to be immersed in the stories and activity of carving stone.   An in-depth sculpture program that results in full 3D stone sculptures, hands-on learning and creative confidence.  This is not just a fun activity: students learn about sculpture, rocks and minerals, cultural connections and new skills. Order a Teacher's Kit or sign up for an instructor.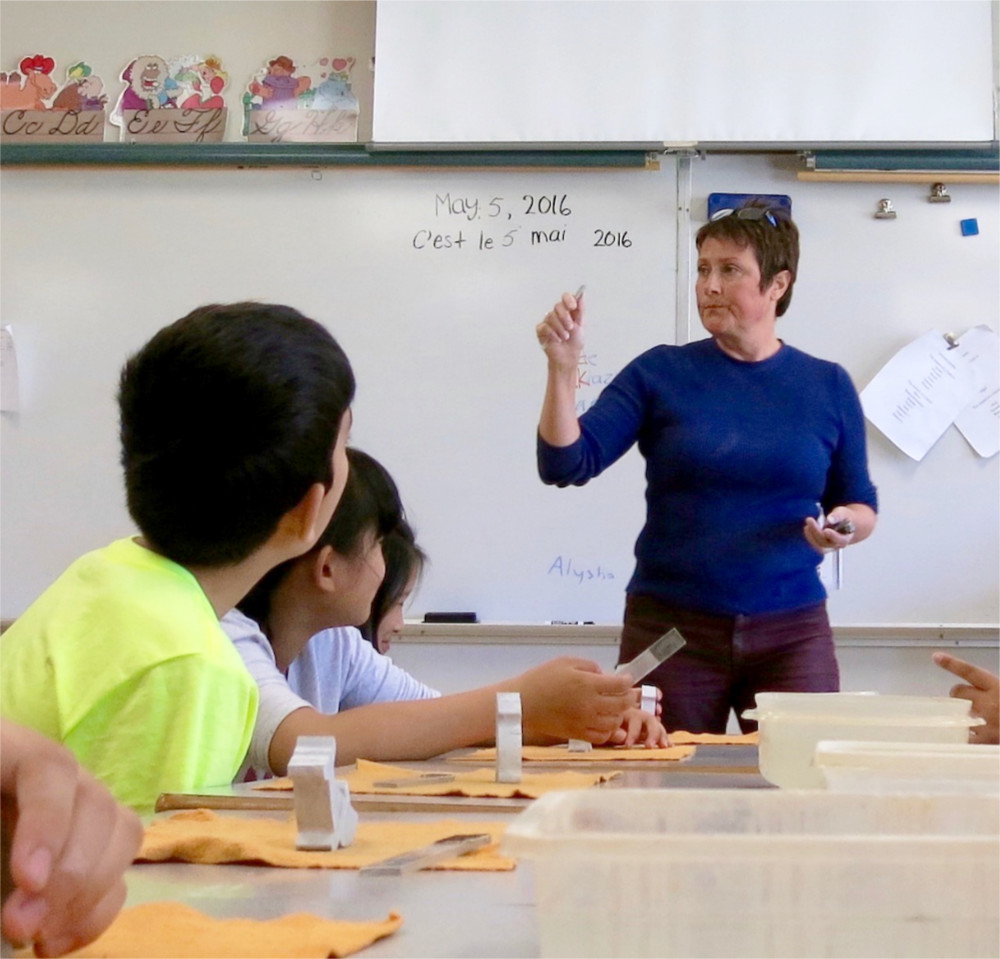 Our School Carving Program is designed for success.  
Each student selects the animal they wish to carve, then they are guided through step by step instruction to shape, sand and finish their stone.  Within 90 minutes, students have learned about soapstone, safe sculpting tools, the process of using water to eliminate dust, and have completed their very own finished soapstone animal.  The School Carving Program is a great complement to classroom curriculums in art, rocks and minerals, using tools, Indigenous cultures and early civilizations.

Animal Soapstone Carving Program – Grades 3-8
Our most popular program.  Each student selects which animal they wish to carve from a provided list.  An instructor comes to your classroom, gives an introduction about soapstone and how this relates to your grade curriculum.  What follows is 90 minutes of fun, creativity and learning with truly impressive results.
K-2 Introductory Carving Class
We are also proud to offer a K-2 workshop as part of our School Carving Program. The workshop is also 90 minutes long, resulting with the students completing carvings they'll treasure. At this level we introduce students to the carving process and etching. The pre-cut forms we use are sea star, heart and fish and are finished the same day.
Egyptian Pendant Carving Program
Our latest program is designed to fit well with Egyptian or early civilization studies. Each student learns how to shape a pendant into a "Cartouche", going through the carving and finishing process.  They also learn about hieroglyphs and etch their choice into the stone.  A fun hands-on workshop with amazing results.  Beautiful black cords are provided for each student with a take-home bag to protect their new carving.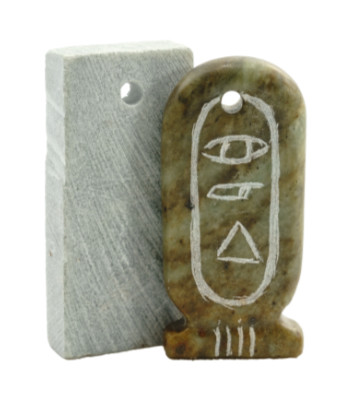 *Please note: Studiostone Creative has developed a very special process using water through the whole carving process to eliminate dry stone dust, and has designed special Kid-safe tools and supplies that result in success.  We have loads of wonderful teacher testimonials to share with you if interested.
How this works:
If you are a teacher in the areas below; we can send a trained instructor to your classroom.
British Columbia: Vancouver/lower mainland, Victoria (Vancouver island communities)
Ontario: Toronto (GTA)
Washington State: Seattle, Tacoma, Olympia, Thurston County and Kitsap County
IS YOUR SCHOOL IN A DIFFERENT AREA?
If you are a teacher in any other area, we have developed a complete "Teachers kit" with all the stone and supplies needed for your class or group.  It includes a step-by-step teachers guide and lots of resources available online to make this class project an unforgettable experience.
Send us a note… we'll send you more information  
Loved the workshop! My students had such a good time and were so proud of their creations. I loved that every stone was unique and the students got to compare and see one another's and pick out the details.
A.C.   Harbour View Elementary School, Coquitlam, BC
"Amazing! This workshop is highly organized and smoothly run. By far one of the best artist workshops I have had in my classroom in many years, I would highly recommend it to any teacher."
L. Brain. Grade 4/5 teacher at Eagle View Elementary, Victoria, BC.